Learn how to golf or take a lesson to improve your game
Overview
TCC offers numerous clinics, camps and lesson options to help learn and/or improve your game. All instruction classes are involving the Professional staff. Our Director of Golf, John Alexander, works with staff to help provide consistent instruction throughout all the programs. Please check under our Instruction tab for more information on the different instruction programs offered. Call the TCC pro shop at 574-583-9977 if you have any questions.
Junior Golf Program
Golf is meant to be a fun sport that can be played for a lifetime. It is a sport than can be taught and enjoyed at an early age and it provides great life lessons along with teaching the importance of integrity. At Tippecanoe Country Club, we strive to provide a junior golf program that encompasses the spirit of the game in a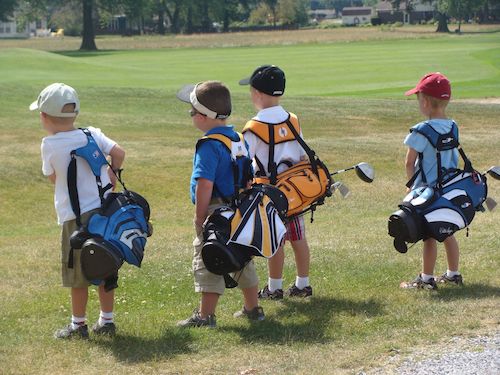 non-intimidating and fun environment. We offer programs for children as young as 3 and up through the teenage years. If a three year old can play soccer or basketball, why not golf? For our "Little Linksters" in that youngest age range, we provide instruction that not only involves the golf club, but also activities that promote similar muscle movements. At this young age, the very basic fundamentals are taught and as they grow older, the instruction slowly gets more advanced, but never does anything take more precedence than FUN! John Alexander, our Director of Golf, and Shannon Gardiner are seasoned instructors with years of teaching experience. Their experience and expertise creates a program that keeps kids wanting to come back to the golf course.
Tippecanoe Country Club offers a variety of Junior Programs including once-a-week drop-in clinics, week-long camps, bi-weekly clinics for the 3-5 year old golfers, and after school clinics through the fall along with fun wrap-up event in August.
Please see below for information on particular programs and contact Tippecanoe Country Club to sign your junior golfer up for any of these programs.
Junior Golf Camps
TCC offers two options through the summer for weekly camps. In 2018, the dates are June 18-22 and July 9-13. These camps are identical in curriculum, so feel free to pick whichever one suits your schedule best! This 4-day camp is packed with fun, instruction, fun, prizes, fun. etiquette and did we mention FUN?! The camp is split into age groups, but is available to juniors between the ages of 3-18. Every junior golfer will receive a special gift for participating and the fee is $50 for children 6-18 and $25 for ages 3-5.
Ladies Chip & Sip Clinics
Ladies, do you enjoy spending your free time with friends over a bottle of wine? If so, we found a great way to enjoy that wine together! Our Chip & Sip Clinics take an hour of your time with current friends (or sign up to make new ones) to learn some of the basics of golf in a casual atmosphere. The wine bottles are opened and available throughout the clinic. Once the clinic is finished, we like to move the fun to the deck to finish off the wine (maybe have some more), enjoy the lakeside atmosphere and have fun hanging out together discussing more than just golf!
Year one was a huge success! These clinics will take place once a month (please check the events calendar on the website) through the summer. You will not be disappointed! With their currently being only one teacher for these clinics; space is limited to the first 8 signed up for each event. You can sign up for any or all the events as soon as you like! Each clinic will cover different aspects for the sport including putting and chipping, short swings, long swings, etiquette, rules and terminology. Questions are encouraged! Member cost is $15 per session while non-members is $20/session.